SIMPLE IRA – Rules, Contribution Limits, & Benefits
Most people working for a company today are probably familiar with the 401k retirement plan. But what isn't as well-known is the SIMPLE IRA. There are some nice benefits to the SIMPLE IRA that aren't available with the 401k. Let's take a look at how the SIMPLE IRA works.

Who's Eligible?
SIMPLE IRA's are retirement plans that are designed for small companies with 100 employees or less.
You're eligible if you've earned at least $5,000 from your employer during any two previous calendar years, and you're expected to earn at least $5,000 during the current year.
Get free stocks from Coinbase!
How Does it Work?
The SIMPLE (Savings Incentive Match Plan for Employees) works similarly to a 401k. As an employee, you're allowed to make contributions on a tax-deferred basis. Contributions are made through salary reduction in one of two ways: either as a percentage of salary for the year, or a specific dollar amount.
Though contributions are not included as federal taxable wages, they are subject to social security and federal unemployment insurance taxes.
What Are the Contribution Limits?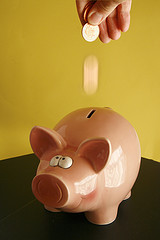 Contributions are limited to $12,500 in 2016 and 2017. But if you're at least 50 years old, you can contribute a total of $15,000. These amounts are subject to cost of living adjustments in the future. This is less than the contribution limit for 401k's however, which is currently $18,000.
Your employer has 30 days from which the money would otherwise have been payable to you to contribute your salary reduction contribution to the SIMPLE IRA.
Now, here are some of the nice benefits of the SIMPLE.
Required Employer Contribution
The best part of the SIMPLE IRA is that your employer is required to provide one of the following types of contributions:
Dollar-for-dollar match up to 3% of your salary, or
2% of your salary whether or not you contribute to the IRA.
Employer contributions must be made no later than the due date for filing the employer's income tax return, including extensions, for the year in which contributions are made.
To contrast, not all 401k's offer an employer contribution. Because SIMPLE IRA's do require this, it can be thought of as free money!
Vesting
The other nice feature of the SIMPLE IRA is that there are no vesting requirements. Once the employer's funds are contributed, they can't be forfeited. In other words, they are fully and immediately vested.
Contrast this with the 401k plan, which usually has a 3-year vesting schedule or a 2-6 year graduated schedule.
Other Nice Benefits
SIMPLE IRA plans also don't require you to be employed on the last day of the plan year to receive the employer's contribution. So even if you leave the company before the end of the year, the employer is still required to contribute to your IRA.
As an employee, you can still make contributions even if you're older than 70 1/2. And if  you're an eligible employee, employer contributions must be made to you even if you're over age 70 1/2 as well.
Drawback
One drawback is that distributions taken before age 59 1/2 are subject to a 10% early withdrawal penalty. And if you withdraw money within 2 years of your first contribution, the penalty increases from 10% to 25% of your distribution if you're under 59 1/2 years of age (unless you meet certain exceptions).
For more on how to prepare for retirement check out these articles.
Retiring In Style
Invest in Your Future
How to Plan Ahead for Your Retirement
Do you have a SIMPLE IRA?

Photo by alancleaver_2000
This post was included in the Carnival of Financial Planning and Wealth Builder Carnival.
(Visited 192 times, 1 visits today)