Professor Pollack's 3×5 Card of Financial Advice
According to the Forbes article " Should Financial Advice Cost 1%?" Americans are spending  $233 billion a year to have $15 trillion of investment money professionally managed. What if you could avoid these fees with some simple financial advice?
Well, you can.  In fact, back in 2014 University of Chicago Professor Harold Pollack wrote down the basics on a 3 by 5 card.  Here they are: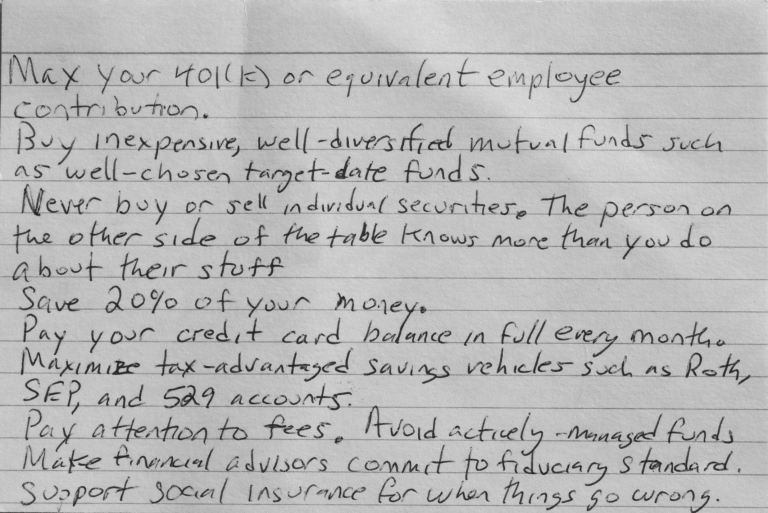 Get free stocks from Coinbase!
What Is The 3×5 Card of Financial Advice Telling Us #1-5
1. Maximize your 401(k) account every year. This year the max amount you can put in your account is $18,500. For most people, this is out of reach. So, put in at least the percentage that matches your organization's contribution. The best money is free money, so don't leave any free money on the table.
2. There are great Target Date Funds and Mutual Funds out there. These can provide a way for you to retire as a millionaire by investing in well-diversified funds. If you want something that's easy to manage and won't take up your time; these may be best for you. Just contribute to these accounts each month and watch them grow.
3. Google, Facebook, and Netflix have made many investors lots of money, but that doesn't mean you should be investing in individual stocks like these. The chances are just as high for losses as wins. So avoid these, the heavyweights know much more than you do.
4. You should always be saving for emergencies and your future. Twenty percent of your income is a great number to shoot for. If you aren't quite at that point yet, start saving small amounts from each check. Even 5% of your income will start to add up.
5. Credit cards are only useful to those that appreciate how to use them. By paying them off each month, you aren't keeping yourself in debt nor or you paying high interest rates.
What Is The 3×5 Card of Financial Advice Telling Us #6-9
6. Everyone should be looking for ways to take advantage of tax savings. Look at Roths, 529 accounts for education and SEP's if you own your own business.
7. Low fees or no fee funds are the best types of investments. Keep your eyes on what it's costing you to invest. By avoiding managed funds, you can keep your fees at their lowest.
8. All Financial Advisors are not created equal. They are all supposed to be looking out for your best interest. Some may not be. Ask questions about expenses you don't understand or investments that confuse you. This will keep your Financial Advisors on their toes and ensure that they uphold their fiduciary duties.
9. Life happens. As much as we enjoy the good times, bad times come our way as well. This is when social insurance can help, so always support programs like social security.
Professor Pollock's 3 x 5 card went viral and ended up getting major news coverage in Forbes and the Washington Post. If you're interested in actually listening to the conversation that inspire the 3 x 5 card, that interview is here.
Want More Solid Personal Finance Advice?
You're So Money by Farnoosh Torabi – A Humorous take on finances, a good read for those that are transitioning from college to true adult life. This book isn't for everyone, but for those that need a bit of laughter with their finances and some understanding of mistakes that can be made along the way. This may be a good read for you.
The Only Investment Guide You'll Ever Need by Andrew Tobias – This book has been around for decades. It provides common sense, practical financial advice. The book has been updated over the years, so the information is fresh and insightful.
Common Sense on Mutual Fund by John C. Bogle – If you're looking for a strategy that's long-term and like the idea of index funds as a means to financial security, take a look at this classic book.
(Visited 21 times, 1 visits today)