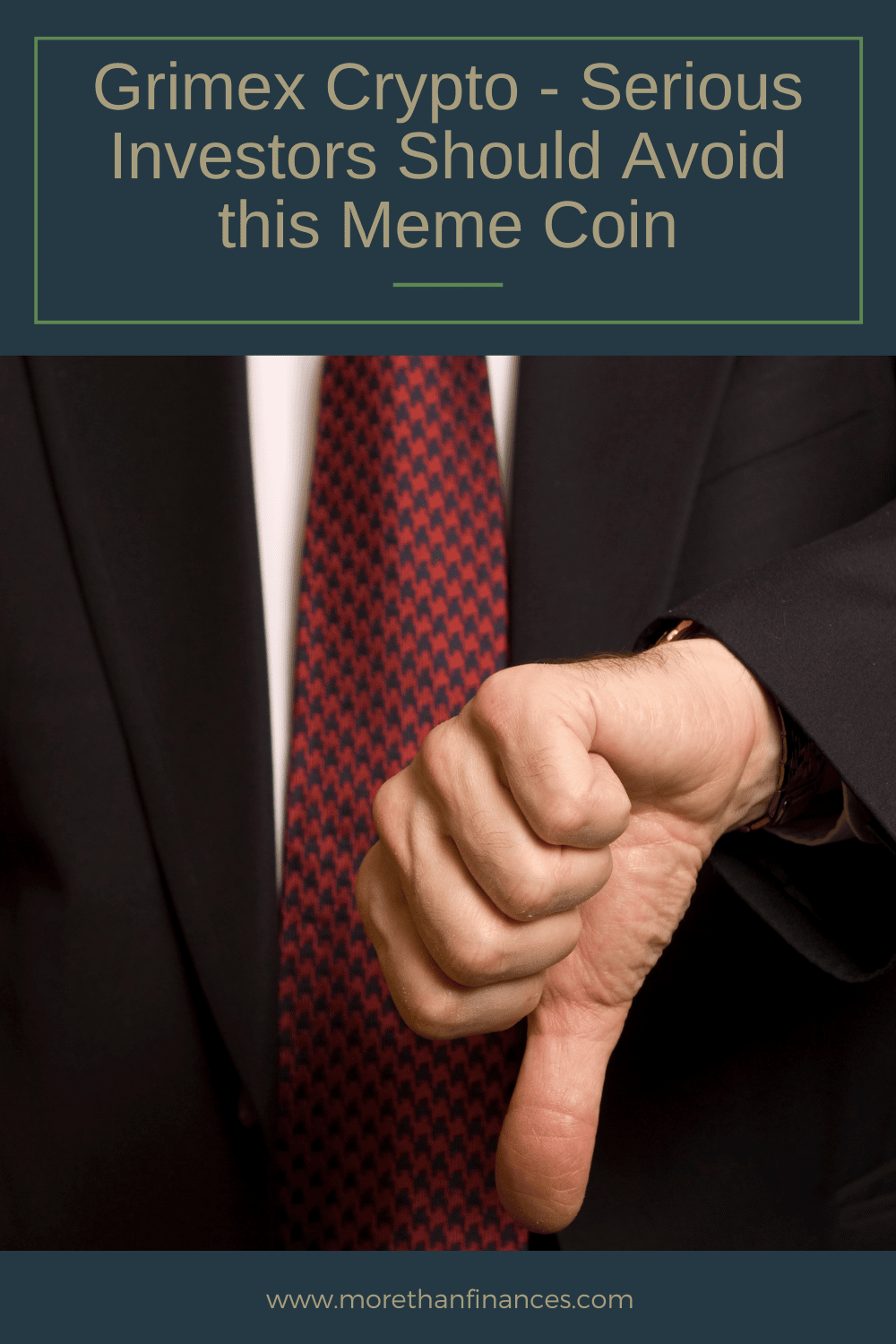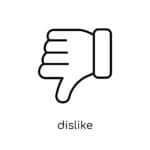 We give SpaceGrime (GRIMEX) crypto a thumbs down. The GRIMEX crypto token has low liquidity and a history of long-term price declines. Moreover, while GRIMEX crypto does have intangible value as a meme coin, it does not seem to solve any significant market problems and is not associated with any meaningful market activity.

What is SpaceGrime (GRIMEX)?
GRIMEX is described as "an experimental interplanetary virtual currency" (here) that "intends to be a decentralized financial technology ecosystem where the intrinsic value is derived from digital art such as NFTs and Video Games" (here). The Grimex community relies heavily on space themes, and elements of art, music, and humor. GRIMEX is the native token of the SpaceGrime community. Grimex is a BEP-20 token on the Binance Smartchain."
SpaceGrime was launched on May 30, 2021.
Social Media Presence
SpaceGrime has a healthy social media following. The cryptocurrency has a total of over 60k followers on Twitter, Telegram, Facebook, YouTube, TikTok, and Reddit. However, most of the cryptocurrency's social media channels have been inactive since the start of 2022, with the exception of its Twitter account. Here is a tweet from the SpaceGrime Twitter account announcing its rebrand to Starship Optimus.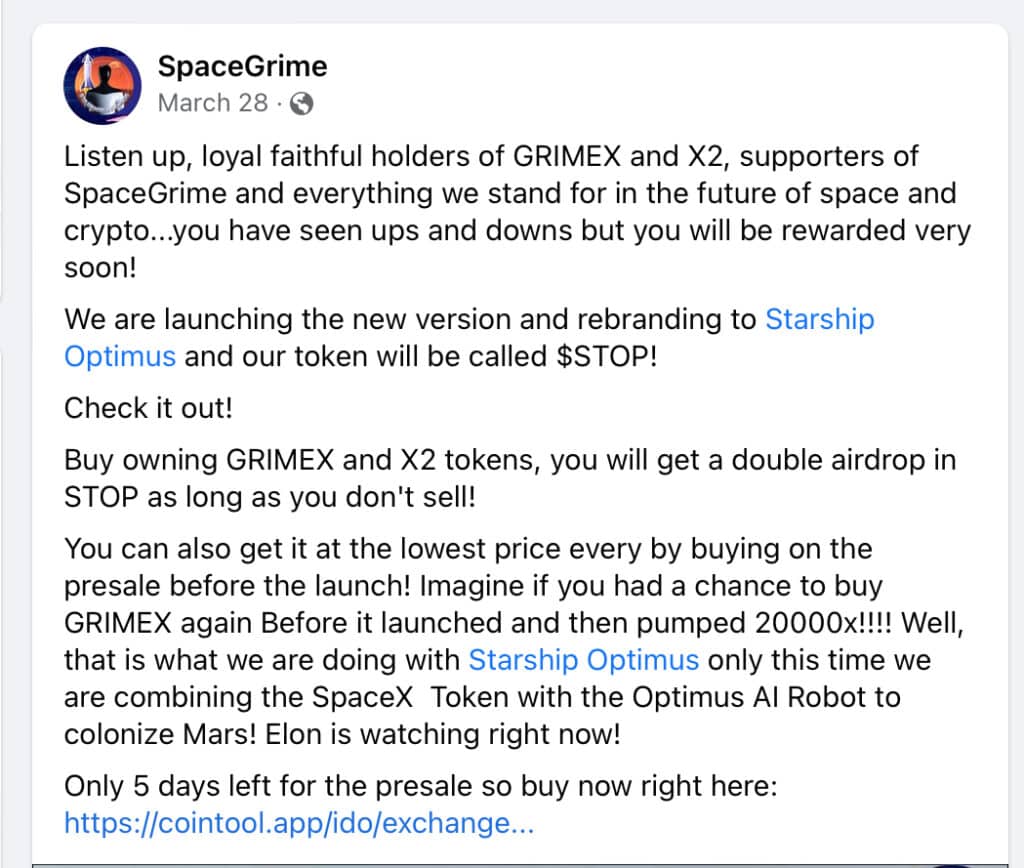 Daily Trading Volume
The daily trading volume for GRIMEX crypto is currently at $102.64. According to Coingecko, as of the time of this writing, the value of GRIMEX crypto is $0.000000000001119.
A low trading volume can make coins difficult to transact, as there are often few buyers or sellers available. These figures are in contrast to when the coin was launched when it reached more than $4M in trading volume.
GRIMEX Crypto Momentum
The price of GRIMEX tokens has dropped significantly in the past year – at least 90%. This is likely due to low trading volume. However, some coin holders have chosen to hold on to their coins in anticipation of the rebranding to Starship Optimus, better known as $STOP Coin. The official Twitter page for GRIMEX promised a double amount of airdrops to those who did not sell their coins, but many owners have complained that they have not received the funds. The last airdrop was August 4th as announced on the official Twitter account.
Does GRIMEX Crypto Solve A Significant Market Problem?
No. GRIMEX does not solve a significant market problem.
As indicated by their whitepaper, GRIMEX is primarily a meme coin (here). Meme coins are valuable in that they often have humorous characteristics or act as a critique of the market as a whole. As such, the benefits of GRIMEX are intangible. However, economic investments are only valuable in the long term if they generate meaningful financial activity.
Taken as as a whole GRIMEX does not appear to have any cash generating economic activity associated with the coin. The interplanetary market envisioned by the SpaceGrime community does not yet exist. The non-fungible token activity piloted on the Spacegrime website appears minimal and there is no evidence that Grimeswap, the native SpaceGrime community exchange, is up and running.
In short, GRIMEX does not solve any meaningful market problems, nor is there any meaningful economic activity associated with the coin.
Transition to Starship Optimus ($STOP)
While GRIMEX crypto promises better returns through its rebranded coin Starship Optimus – known as $STOP, not all of the coin owners have yet been able to experience the promised benefits. As of the moment, the value of this coin has been dropping at a visible pace. In any event, rebranding to Starship Optimus will not provide long-term value unless the SpaceGrime community finds and implements a viable business model.
GRIMEX Crypto – Our Summary
Overall, this coin doesn't seem like a very good investment. It has a history of price declines, low trading volume, and doesn't have a compelling value proposition. The transition to Starship Optimus seems to have investor interest, but regardless of its form, there are probably better alternatives out there for the cryptocurrency public.
Do you own any GRIMEX Crypto? What has your experience been? Let us know in the comments below!
For More Great Articles Read These:
Yes, You Can Make Money With An Ethereum Node
Q & A: Yes, There Are Central Places Where You Can Find New Coins
Three Undervalued Cryptocurrencies You Should Keep An Eye On
(Visited 77 times, 1 visits today)