Free Credit Score From Credit Karma
When you apply for a loan, such as a home mortgage, car loan, or even a credit card, lenders will look at your credit score. They do it to determine the level of risk that you present to them. The higher your score is, the lower the risk you're considered. This will lead to favorable interest rates for you.
The traditional way of retrieving your credit score is to purchase it from a score monitoring company. However, these companies typically charge a fee in order to let you keep up with changes in your score. This cost is usually about $15 a month for basic service.

How Does Credit Karma Work?

Credit Karma is trying to change the way you track your credit score by letting you see your score for free. No strings attached. No credit card needed to sign up. You can check your score as often as you like, and it won't affect your credit score.
Get free stocks from Coinbase!
They pull your credit score from TransUnion, one of the three major credit bureaus. But although the score is retrieved from the bureau, it's important to note that this is not the real FICO score that you would get from TransUnion. Rather, because Credit Karma uses a different scoring model, your score is a close approximation.
How Is It Free?

They're able to show you your score for free by displaying advertisements on the site which support the cost of retrieving your score. When you log in, personalized offers from advertisers are displayed based on your credit profile.
What Information Do You Need To Provide?
To register for the service, you'll need to give them basic personal information such as your name, address, and date of birth. They'll also need your social security number in order to verify your identity with the credit bureau.
Some people feel uncomfortable giving out their social security number, but you'd need to give this information if you want to check your real FICO score anyway. In my opinion, it's no big deal, and it's a fair tradeoff to let you see your approximate credit score.
Being certified with the TRUSTe privacy seal adds credibility to their commitment to protecting your information. Credit Karma is also accredited by the Better Business Bureau.
Cool Features
Besides seeing your credit score, you can also see how various financial actions, such as reducing your balances, adding a new card or loan, and increasing credit lines will likely affect your score.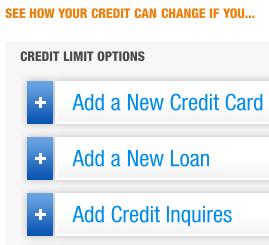 And you can see how you grade on certain details of your credit report, such as on-time payments and hard credit inquiries.

You can even compare your score to other users based on various factors, including state of residence and age range.

So although it's not your real FICO score, it is a good approximation. And best of all, it's free. This makes Credit Karma a good resource to have.
Have you tried this service from Credit Karma?
This article was included in the Carnival of Personal Finance during the week of May 10, 2010. Check out Madison's blog at My Dollar Plan for a variety of great articles!
(Visited 29 times, 1 visits today)