How The Financial Planning Pyramid Guides You To Wealth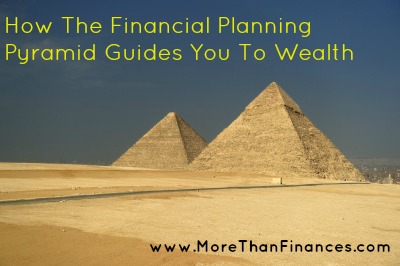 Trying to get your financial life in order is a tall order. It wrecks nerves, causes fights, and raises blood pressure. But with the Financial Planning Pyramid it can not only be done, but can be enjoyable.
Protect Yourself – The First Level Of Your Financial Pyramid
Without a solid financial foundation your pyramid will come tumbling down when you try to build the second level. That's why this level of the financial planning pyramid is most important.
Get free stocks from Coinbase!
Should the worse happen and you are unable to work you need to make sure your family is cared for. Here are four things to do to build this level of your financial planning pyramid.
Build an Emergency Fund
Get Insurance 
Get a Will
This is the foundation for your life so take the time and build it right. Make sure that your emergency fund is fully funded. Another thing to do is have disability insurance in case you aren't able to work. We laugh at the ridiculous commercials but in reality this is something we should all consider.
None of us know when our time will end, we could live for 50 more years or may not make it through today, it's a sad reality but a reality. That's why setting up a Will and having life insurance is a must.
Grow With Automation And Investing
Once the base of the financial planning pyramid is in place it's time to build level two.
Automate your savings
Create Multiple Streams of Income
Invest in safe investments
Automation is the easiest way to make sure you're saving. If it happens automatically you don't feel it, and you get used to not having that money.
Creating several streams of income or "side hustles" is crucial. Whether this is driving for a rideshare service, creating a online product that sells while you sleep, or getting a second job make sure you grow your income.
After growing your savings and increasing your income it's time to start investing in safe investments. There is no such thing as a 100% safe investment, but there are safer ones.
Star by learning all you can, invest in what you know, and especially look at index funds.
Rental properties take more time and money then investing in the stock market but, can also bring hgiher returns. It's more risky and partially in the final part of the financial planning pyramid but, if done correctly it can provide a safe investment with a good income.
The Fun Level Of The Pyramid
After building a stable foundation and growing your income and savings, it's now time to take some risk. Some consider this the "fun" part of building your financial planning pyramid. Remember that without the first two parts of the pyramid this won't work so make sure they're in place first.
Buying Gold
Timing The Market
Real Estate
Gold is one of the most valuable things in the world. As an investment it's sometimes looked at as risky, which is perfect for the final part of our financial planning pyramid. To start investing in gold check out this article.
Timing the market in general is a very bad idea. But at this level, using no more than 5% of your wealth, it can be fun and make huge returns if done right.
Investing in rental properties can be risky, but flipping properties or reselling them is even riskier. People make fortunes doing this and it can be done, do your research and find a property your interested in.
The Easy To Follow Financial Planning Pyramid Can Help You
No matter what stage of the pyramid you are on now, keep building on it. Success may be years away or only a few months but following the financial planning pyramid can get you there faster.
Image by pazham at FreeDigitalPhotos.net
(Visited 33 times, 1 visits today)