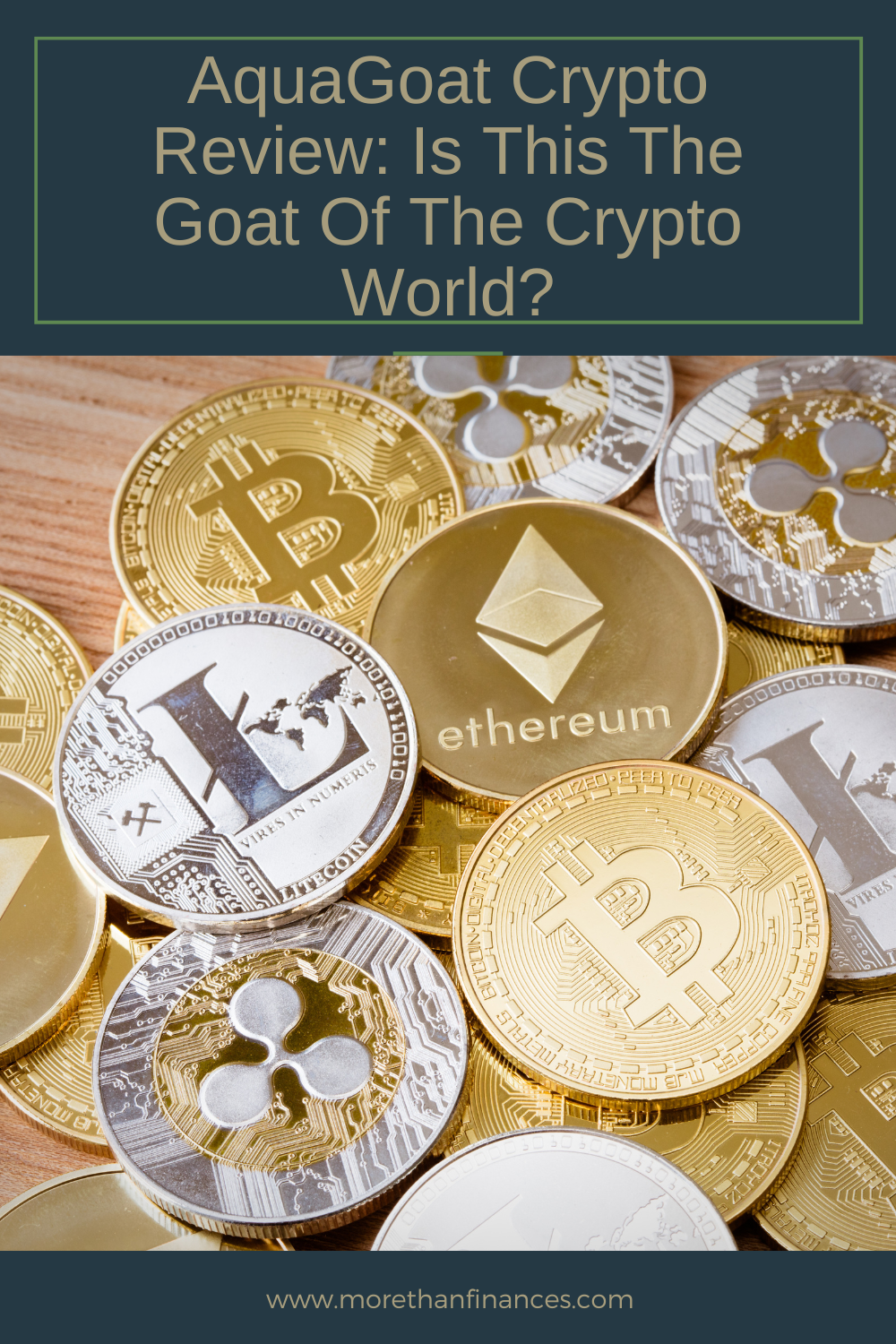 We give AquaGoat crypto a thumbs down. This token has low liquidity and a history of long-term price declines. Moreover, while AquaGoat crypto does have intangible value as a utility eco-token, it does not seem to solve any significant market problems. Investors should consider this coin a donation to conservation, not as a means of increasing wealth.

What is AquaGoat?
AquaGoat is a new Defi token that helps to save our oceans. AquaGoat is a decentralized frictionless yield-generation utility eco-token that helps offset the harmful impacts of cryptocurrency mining on the environment. About 50% of all transaction fees are locked in liquidity, 30% are directly distributed to all holders, and the remaining 20% are burned, with the total amount burned growing over time. AquaGoat was stealth-launched by an Australian developer on April 7, 2021, and has since assembled an international development team comprised of investors from the community.
The AquaGoat token is the cryptocurrency of the AquaGoat community. The project aims to be community-driven, holding polls and discussions with the community for key decisions regarding the project. AquaGoat's long-term goal is to establish itself as an industry leader in the emerging Decentralized Finance sector, focusing on ecological conservation efforts to reduce the man-induced effects of global climate change, while providing economic empowerment for all through an appreciating decentralized yield-generating cryptocurrency (source). AquaGoat's management team is here.
Social Media
AquaGoat has a healthy social media following with over 157k total followers on Twitter, Telegram, Facebook, YouTube, Discord, Instagram, and Reddit. While AquaGoat's social media accounts are infrequently updated, AquaGoat's Twitter account remains active. Here's the account's latest tweet: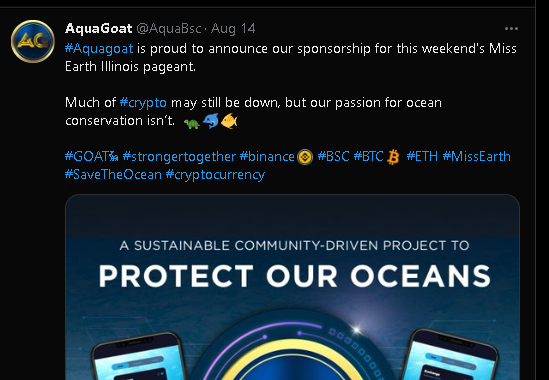 Daily Market Trading Volume
The daily trading volume for AQUAGOAT crypto is currently at $2,463. According to Coingecko, as of the time of this writing, the value of AQUAGOAT crypto is $0.000000000726765.
This is a very low trading volume. A low trading volume can make coins difficult to transact, as there are often few buyers or sellers available for transactions to occur. These figures are in contrast with January 2022 when it reached more than $1.4M in trading volume.
Price Momentum
The price of AquaGoat tokens has dropped since January 2022 by at least 14%. This is likely due to investor assessments that the coin is likely to lose value. However, some have chosen to hold on to their coins in anticipation of the rebranding to Aquagoat v2 or because they support the conservation mission of this token. We note that the pace of this decline is significantly less than the drops in other coins over the past 12 months.
Does AquaGoat Crypto Solve A Significant Market Problem?
No. This token does not solve a significant market problem.
AquaGoat's ultimate goal is to make a difference in the health of our oceans. The role of AquaGoat's cryptocurrency activity is to raise money for ocean conservation. Thus, the objective of the organization is not to make profits. Instead, AquaGoat uses its cryptocurrency as a way of funding its operations. In short, it does not solve any meaningful market problems, as it is designed with the main goal of supporting AquaGoat's conservation projects.
While this is a clever and innovative approach to fundraising, this places an inherent limitation on the value of the cryptocurrency. As the AquaGoat token is tied to the success of AquaGoat as a community, it remains unclear how the value of the coin itself will increase in the long term.
Trading Decline and Advocacies
AquaGoat's management team has remained open about the recent decline in trading that the coin has seen. In addition to this, AquaGoat has also been sharing recorded discussions on its Reddit account in order to keep the community updated. Overall, AquaGoat appears to be taking a proactive approach in addressing its dip in trade volume.
Here is a recent Reddit announcement on this subject:
Despite this, AquaGoat continues to take part in known activities such as cleanup drives and even showing support to one of the candidates for the Miss Earth beauty pageant. AquaGoat sends a portion of every transaction to the Ocean Blue Fund, which is used to finance ocean clean-up and marine conservation initiatives.
AquaGoat Crypto – Our Summary
Overall, this coin is more suitable as a charitable donation. It has a history of price declines and low trading volume. The effort to clean up our world's oceans is a noble cause; however, the fundraising role of this coin means it may have limited growth. We like this crypto coin for its charitable aspects, but given the inherent limitations, investors should consider any purchase of these coins to be a donation to conservation, not an investment.
Do you own any AquaGoat crypto? What has your experience been? Let us know in the comments below!
For More Great Articles Read These:
AquaGoat – Saving The Oceans One Eco Coin At A Time
AquaGoat in 2022 – Oceans of Opportunity
Yes, You Can Make Money With An Ethereum Node
Q & A: Yes, There Are Central Places Where You Can Find New Coins
Three Undervalued Cryptocurrencies You Should Keep An Eye On
(Visited 157 times, 1 visits today)